The Ultra Watery Eoseongcho Cleanser is a buttery soft balm that melts into an oil on contact with the skin, effectively removing even waterproof makeup without irritation. It contains a mix of luxurious Camellia Oil and Chia Seed Extract with 10,000ppm of the purifying and revitalizing "Eoseongcho" Extract (also known as Houttuynia Cordata). This balm rapidly reaches deep down into pores to lift away all impurities and rinses clean without drying the skin, leaving skin clean and radiant.
100 ml / 3.3 fl oz
Take a small amount with the provided spatula on to your hands. Massage over dry skin to lift off makeup and impurities. Add a bit of water and continue massaging to emulsify the cleanser to melt away stubborn makeup or UV product. Rinse with lukewarm water.
Cetyl Ethylhexanoate, Ethylhexyl Palmitate, PEG-20 Glyceryl Triisostearate, Polyethylene, PEG-10 Isostearate, C13-15 Alkane, Camellia Japonica Seed Oil, Hippophae Rhamnoides Oil, Houttuynia Cordata Extract, Camellia Sinensis Leaf Extract, Alcohol Denat, Salvia Hispanica Seed Extract, Water, Trihydroxystearin, Butylene Glycol, Tocopheryl Acetate, Fragrance (Parfum)
Customer Reviews
07/22/2020
Eva L.
United States
I recommend this product
Double cleansing luxury
I love how smooth and gentle this cleanser is on my skin and the scent is so refreshing; it feels like I am giving my face a luxurious treatment while removing my makeup. I also have pretty sensitive skin and appreciate that this is a gentle formulation. I never used to double cleanse before and am glad that I have made the transition with this product.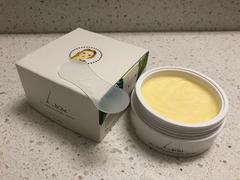 I recommend this product
Best Korean Cleansing Balm I've Tried
I'm actually someone that prefers cleansing oils over balms but I love this cleansing balm. It's way better than the Banila Co Cleansing Balm in my opinion and feels much more natural as well. It cleans off all makeup (even better than the Bonair Cleansing Oil which is my current favorite cleansing oil). I even got grits/sebum out from this balm! Usually balms don't take out my grits as well as oils do. I look forward to using this every night. The only negative thing about this is that the spatula thing does not fit inside the container. Otherwise, the balm itself is super portable and perfect for travel!
A gentle yet efficient cleansing balm
I used this cleansing balm as a first cleanser. This cleanser is very gentle and didn't stripe up my skin. It does not hurt my eyes area too. It is also very efficient in removing impurities and make up from my face. I don't usually wear heavy make up, thus just a little scoop of this cleansing was sufficient. The scent is light and refreshing, something which I adore a lot. I usually follow up with a second cleansing with my A by Bom cleansing foam. This cleansing balm is a keeper for me.
Amrita
Pretty good at cleansing away any makeup or sunscreen. Very soothing for sensitive skin
First oil cleaner success!
I love to use this product as a first step cleanser. I have sensitive skin but this truly digs down into your pores and cleans without irritation. Applied to dry skin and then washed off it is so lovely to use on days when I wear makeup that I cannot wait to wash off! This was my first A by Bom product to try and I can't wait to buy more when it's done! (The tub does last quite a while)