The Real Tonic Soothing Moist Mist hydrates, soothes, and helps the skin retain moisture. This herbal mist features Coptis Chinensis, also known as Goldthread, a medicinal herb known for its anti-inflammatory and anti-bacterial benefits. The herbal liquid is produced using a traditional distillation method known as Cheongdamsu that preserves the active ingredients. As a result, this calming mist is exceptionally pure and absorbs quickly into the skin.
80 ml / 2.71 fl oz
Mist face from a distance of about 10 inches, whenever skin is in need of moisture and refreshment and/or use with a cotton pad as a toner.
Coptis Chinensis Root Extract, Scutellaria Baicalensis Root Extract, Gardenia Jasminoides Extract, Phellodendron Amurense Bark Extract, Water, Glycerin, Propanediol, Sodium Hyaluronate, 1,2-Hexanediol, Butylene Glycol, Dipropylene Glycol, Glycereth-26, PEG-60 Hydrogenated Castor Oil, Panthenol, Allantoin, Cananga Odorata Oil
Customer Reviews
Gentle mist
I've bought this in a set with the essence. To be honest I was a bit underwhelmed at first. Somehow the pump didn't quite work in the beginning and it was less a mist than it was a waterhose. Somehow that issue resolved itself and now it gives the nicest fine mist. I also came to appreciate how gentle it is. Definitely more hydrating than water, but without any irritants. I can use this on sensitized skin and this will hydrate and soothe my skin right down. Also it's quite inexpensive and after 2 or 3 months of daily usage this is still more than half full (I use 3-4 spritzes every evening).
If Only They Sold a Bigger Size!
I really love this mist! It's a great little product, particularly good to just throw in your handbag and spritz whenever you feel like your skin needs a pick-me-up. Quick to absorb and even good to spritz over makeup when you need to freshen up a bit. This also didn't irritate my sensitive skin and I do feel like I have had less breakouts since incorporating this into my skincare routine. It is also very hydrating so good for all those with combo to dry skin types. My only problems are that it doesn't come in a bigger bottle with more product and that the spray is a bit finnicky so you have to be careful how you mist. This is one of my favourite korean mists and will probably be for a long time to come.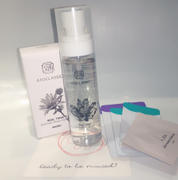 Works with makeup and calms the skin
It's a delicate mist without any scent. The bottle contains only 80 ml of the mist but it's ideal amount to put the mist in a bag and keep it near whenever you go out. I like to use it before I put the makeup as well as during the day - it doesn't mess up my makeup and it still hydrates my skin well. It's so soothing but there's only one thing I have problem with - if I spray it the wrong way like I live not enough space between my face and the mist then I usually end up with the scratchy feeling in my throat. But besides that it's a good mist for the summer.
A really nice mist
It's a very nice, refreshing mist. Sprays without problems, absorbs fast and leaves the skin moisturized. It can sting the eyes, so make sure it sinks in well before you open them.