Are you ready to add Kombucha and Vinyasa into your Self-Care Routine?!
Meet our Aqulabo Self-Care Kit:
Jelly Mist (50 ml) - an innovative gel-to-liquid facial mist that opens up the absorption pathway of your skin to boost the effectiveness of skincare products while adjusting the pH balance of your skin and strengthening the skin barrier.
Kombucha First Breath-Like Toner (50 ml) - 

 infused with 88% Black Tea Water, rich in polyphenol and various vitamins and minerals, refreshes skin while the antioxidant effect of the toner adds vitality.

Vinyasa Calming Serum (30 ml) - infused with Lotus Ferment Complex™, this serum improves energy flow in the skin to achieve pure complexion. Made with all EWG green ingredients, it is especially effective in soothing and treating sensitive skin with various antioxidant ingredients such as polyphenol and vitamin C.
Oh! Very Bright Mask (1 sheet) - along with skin-loving powerhouse ingredients Niacinamide, Centella Asiatica, and Licorice Root Extract, this mask is formulated with "Gomisin N," that comes from Omija (Magnolia Berry) extract which has been traditionally used in Korea as a tea for glowing skin and found to have 60 times more targeted brightening effect on skin compared to Arbutin.
Aqulabo Canvas Pouch - natural material drawstring pouch to carry all your self-care must-haves!
$48 value for $28*
*subject to price change at any time
Jelly Mist - After cleansing, spray Jelly Mist directly on face and neck and gently pat in with hands.
Tip: Use Jelly Mist prior to using a mask of your choice to boost the effectiveness of the mask.
Kombucha First Breath-Like Toner - After cleansing or Jelly Mist, smooth toner over skin with a cotton pad, or for sensitive skin, pat liquid on face until absorbed. Can be reapplied in layers for additional hydration.
Vinyasa Calming Serum - Apply 2-3 pumps of serum, paying special attention to sensitive and concern areas.
Oh! Very Bright Mask - Place sheet mask over face and leave on for 15-20 minutes. It can be especially refreshing if placed in the refrigerator prior to use.
Jelly Mist
Water, Butylene Glycol, Glycerin, Pentylene Glycol, Propanediol, Chinensis Fruit Extract, Glycine, Serine, Glutamic Acid, Aspartic Acid, Leucine, Alanine, Lysine, Arginine, Tyrosine, Phenylalanine, Threonine, Proline, Valine, Isoleucine, Histidine, Methionine, Cysteine, Ceramide NP, Hydrogenated Lecithin, Gellan Gum, Hinokitiol, Disodium EDTA, Sodium Chloride, Calcium Lactate, Ethylhexylglycerin, Caprylyl Glycol, 1,2-Hexanediol
Kombucha First Breath-Like Toner
Camellia Sinensis Leaf Water(88.33%), Water, Glycerin, Betaine, Trehalose, Urea, Camellia Sinensis Leaf Extract, Camellia Sinensis Leaf Extract, Uuron-Cha Ekisu, Galactomyces Ferment Filtrate, Lactobacillus/Honeysuckle Flower Extract Ferment Filtrate, Ethylhexylglycerin, Caprylyl Glycol, Butylene Glycol, 1,2-Hexanediol, Hinokitiol, Chlorphenesin, Carbomer, Arginine, Rehmannia Chinensis Root Extract
Vinyasa Calming Serum
Nelumbo Nucifera Flower Water (61.1%), Glycerin, Euglena Gracilis Polysaccharide, Zanthoxylum Piperitum Fruit Extract, Pulsatilla Korean Extract, Usnea Barbata (Lichen) Extract, Sodium Hyaluronate, Dipeptide Diaminobutyrorl Benzylamide Diacetate, Palmitoyl Tripeptide-5, Nelumbo Nucifera Flower Extract, Nelumbo Nucifera Germ Extract, Pentylene Glycol, Portulaca Oleracea Extract, Chamomilla Recutita (Matricaria) Extract, Butylene Glycol, 1,2-Hexanediol, Beta-Glucan, Xanthan Gum
Oh! Very Bright Mask
Water, Butylene Glycol, Niacinamide, Glycerin, 1,2-Hexanediol, Caprylyl Glycol, Propanediol, Betaine, Allantoin, Centella Asiatica Extract, Polygonum Cuspidatum Root Extract, Scutellaria Baicalensis Root Extract, Camellia Sinensis Leaf Extract, Glycyrrhiza Glabra (Licorice) Root Extract, Rosmarinus Officinalis (Rosemary) Leaf Extract, Chamomilla Recutita (Matricaria) Flower Extract, Schisandra Chinensis Fruit Extract, Ethylhexylglycerin, Chlorphenesin, Hydroxyethylcellulose, Carbomer 940, Arginine
Customer Reviews
02/09/2020
Ruth G.
United States
I recommend this product
Totally in love
I am super happy to have tried these products. I think this is a kit is a great way to get to know the Aqulabo brand. All products shine in their category. Aqulabo Kombucha First Breath-Like Toner: It is an impulse of antixidants and hydration that I appreciate at the beginning of the routine. It really is a breeze that refreshes and adjusts my skin. In addition, ferments I love make the product absorb quickly and help keep my skin healthy. If you love fermented products like me, you will love this Kombucha !!! Aqulabo Jelly Mist: : It's the mist you always want to have with you. I recognize that its gel texture made me think it would not work. But, to my surprise, the product comes out of the bottle in a fine and delicious mist. The amino acid complex does its job keeping the skin hydrated for a long time. It is a multi-purpose mist that works as a torner, in layers to achieve, more hydration and of course as an impulse for the sheet mask. Highly recommended. And leave for the end the product that I consider the rock star of the Kit, Aqulabo Vinyasa Calming Serum: Love, Love, Love. I was looking for a soothing suro to complete my nighttime routine with Retinoids when I found the Vinyasa Calming serum. Precious Aqulabo product. It has a high percentage of fermented lotus extract full of antioxidant benefits that strengthen the skin. I started using it with a little irritation on my skin that disappeared in days. To the touch it is fresh, soothing, it absorbs quickly and you feel your skin healthy and unstressed. Beautiful product, excellent formulation, that fulfills what it promises and more. Highly recommended for anyone who wants to calm the skin while giving it anti-aging benefits.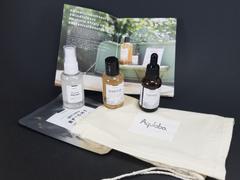 11/19/2019
Soomin K.
South Korea
I recommend this product
Love this kit so much!
As a person with oily skin, I had thought I had to minimize hydration and have been doing the simplest skin care because I didn't like having too much stuff on my face; but this kit totally changed my mind! All the products quickly absorb in my skin while giving me just the amount of hydration. The texture of my skin got so much smoother in just a few days. Before, my skin would get so oily throughout the day that I had to use no-sebum products, but my skin is overall much clearer and less oily after using this kit. I also love the compact, handy size of these products! This kit definitely deserves a 5/5!!
10/18/2019
Natalia V.
South Korea
I recommend this product
Makes a great gift!
As someone new to the K-Beaty scene, it is hard to pick some good products to try out. I recently got this kit and loved it! My favorite is the Jelly Mist, which not only looks really cool, but it feels fantastic on the skin. Also, I love the smell of the Kombucha toner, I had no idea that this ingredient was available for skincare. I would definitely love to purchase some of these as cute gifts!